Straight like a tagliatella!
Un tratto di 50 km della ciclovia del sole realizzato sul 'rilevato' dell'ex ferrovia Bologna-Verona, tra piccole vecchie stazioni abbandonate. Attraversare i possenti ponti in metallo dell'ex ferrovia in sella alla vostra bicicletta è un'esperienza che raramente incontrerete altrove e a qualsiasi velocità lo farete, vi sentirete sempre come una baldanzosa littorina del tempo che fu.
Il tracciato gpx comprende anche il percorso da Osteria Nuova a Bologna.
E' un percorso temporaneo che utilizza strade secondarie e a basso traffico,
adeguatamente segnalate e predisposte al traffico cicloturistico internazionale.
Il percorso definitivo passerà più a nord attraverso il Comune di Calderara di Reno,
la fascia boscata a nord dell'Aeroporto e il corridoio naturalistico del fiume Reno.
A 50 km section of the Sun Route constructed on the embankment of the old Bologna-Verona railway, scattered with small old abandoned stations. Crossing the imposing metal bridges of the former railway on your bike is an experience that you will rarely live elsewhere and, whatever your speed, you will always feel like a handsome "Littorina" (legendary steam train) of bygone times.
The GPX route also includes the Osteria Nuova to Bologna route. This is a temporary route that uses side roads with less traffic, is well sign-posted and is suitable for international cycling tourists. The final route will be further north and will pass through the town of Calderara di Reno, The wooded strip of land to the north of the airport and the ecological corridor of the River Reno.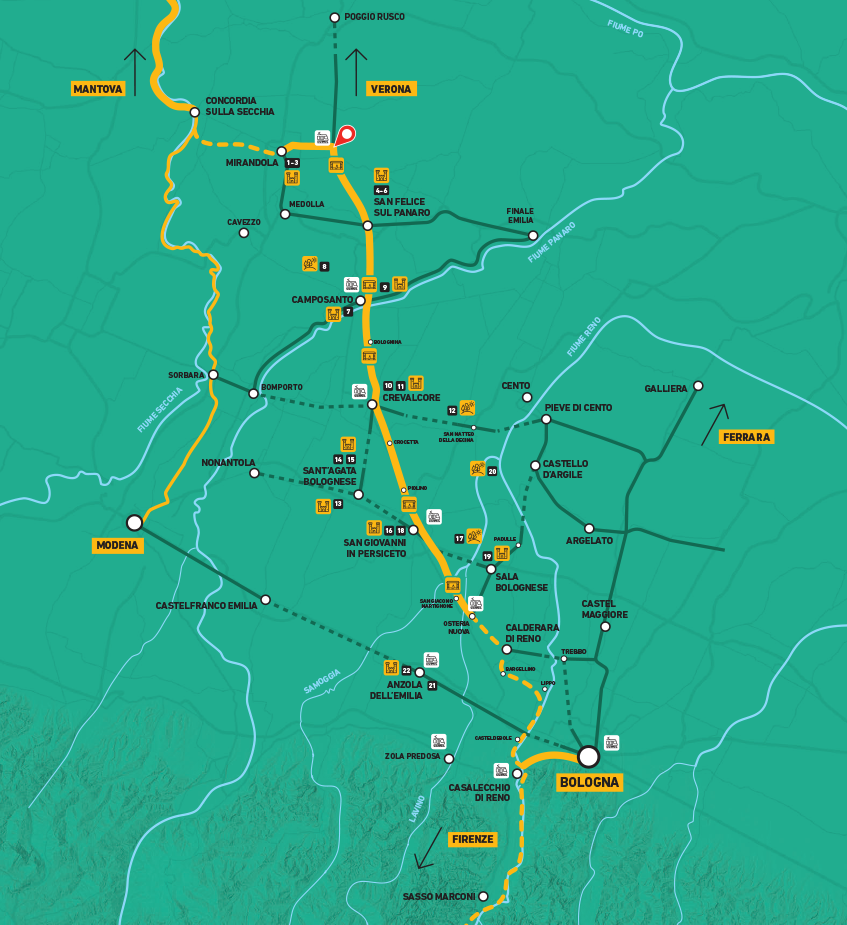 A straightforward, undemanding section for everyone: experts and novices alike. 50 km among old stations, imposing bridges and the very best of Emilian cooking.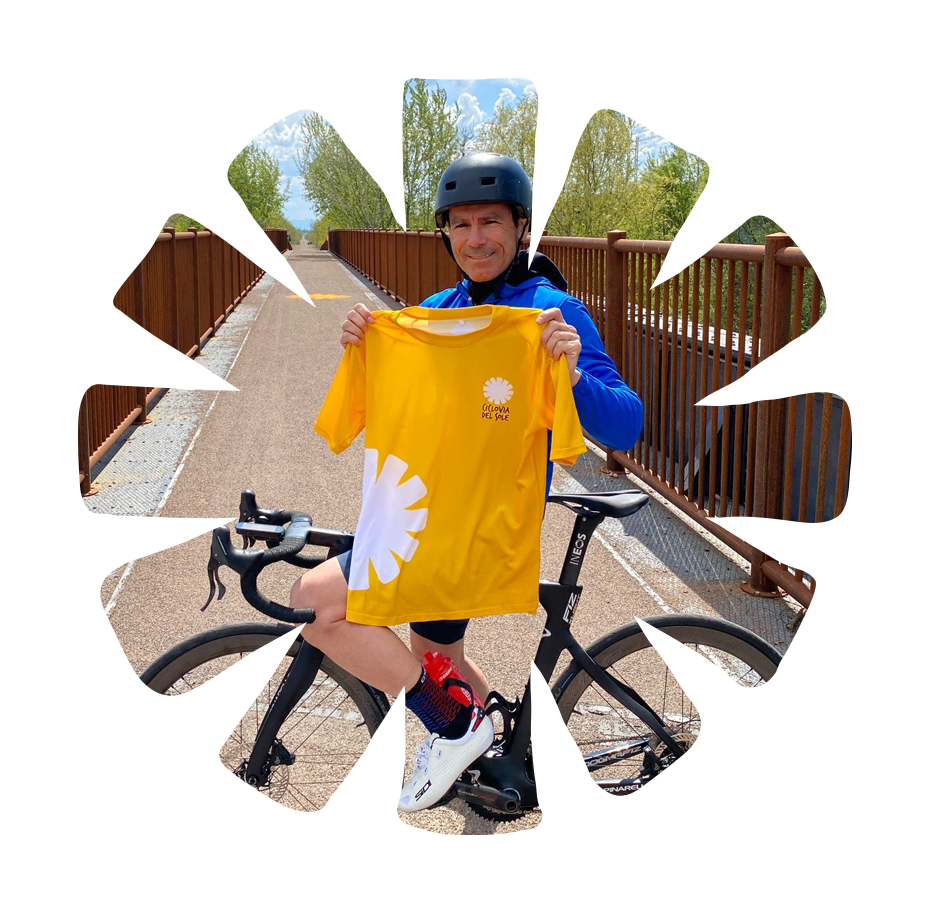 Cycling is a journey inside the landscape. It is discovery and exploration. A cyclist knows that pedalling means travelling and that travelling means learning. The bike unites. It doesn't fear distances, it builds relations. This bike route crosses Europe from North to South, 7,400 km that will soon connect the North Cape to Malta along a single green thoroughfare through the heart of the continent. Today this route is enriched with a section immersed in the Po Valley.  Small abandoned stations, imposing metal bridges, seemingly never-ending countryside, here and there interrupted by urban landscapes, ancient monuments and well-kept secrets. Today, this route connects the Brenner Pass with Bologna and it will soon reach Florence. It's called the Ciclovia del Sole or "Sun Route". I wonder why.