Ladies and gentlemen
to your chariots! Pardon, in the saddle! Emilia-Romagna lowlands, tagliatelle and old stations.
50 km of lowland, 50 km of the pure essence of Emilia. A straightforward, undemanding route that crosses a land of nihilists and empiricists, eccentrics and artists, of cordial and angry characters like the moody, Naïve painters of the lowlands who depict the plain. This region is a sort of Italy in miniature, a "super-Italy". (Edmondo Berselli, Quel gran pezzo dell'emilia).

Let's pop over for a visit?
Things to see now just a short ride away
Castel of the Pico
A castle famous in Europe as being legendarily impregnable, it once belonged to the Pico family…
18th-19th century buildings
A stroll in via Matteotti is enjoyable to admire these buildings, which were once the pride of…
Betlemme square
Also called Piazzetta degli Inganni (the square of deceptions), it hosts the Trompe l'oeil created by Gino Pellegrini…
Parish Church of S. Maria Annunziata
Built in Romanesque-Lombard style in 1096, the Parish Church of Santa Maria Annunziata and San Biagio…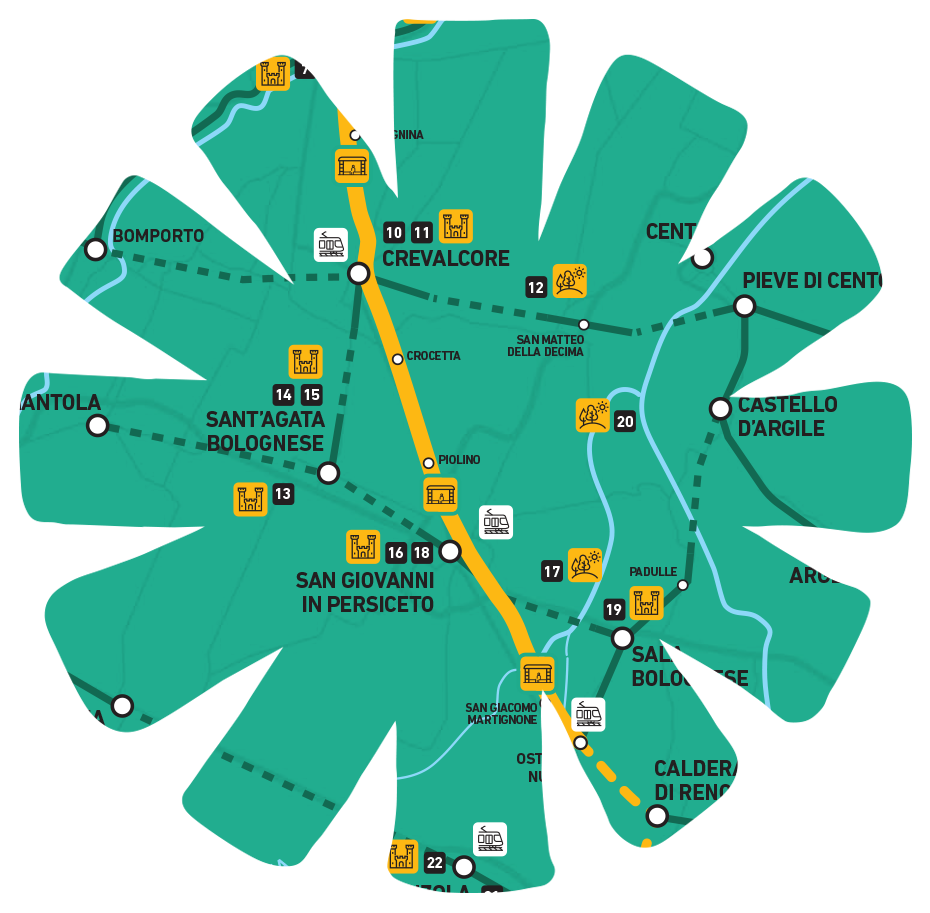 Pianifica il tuo viaggio e scopri tutto ciò che c'è da vedere​

Il tracciato gpx comprende anche il percorso da Osteria Nuova a Bologna.
E' un percorso temporaneo che utilizza strade secondarie e a basso traffico, adeguatamente segnalate e predisposte al traffico cicloturistico internazionale.
Il percorso definitivo passerà più a nord attraverso il Comune di Calderara di Reno, la fascia boscata a nord dell'Aeroporto e il corridoio naturalistico del fiume Reno.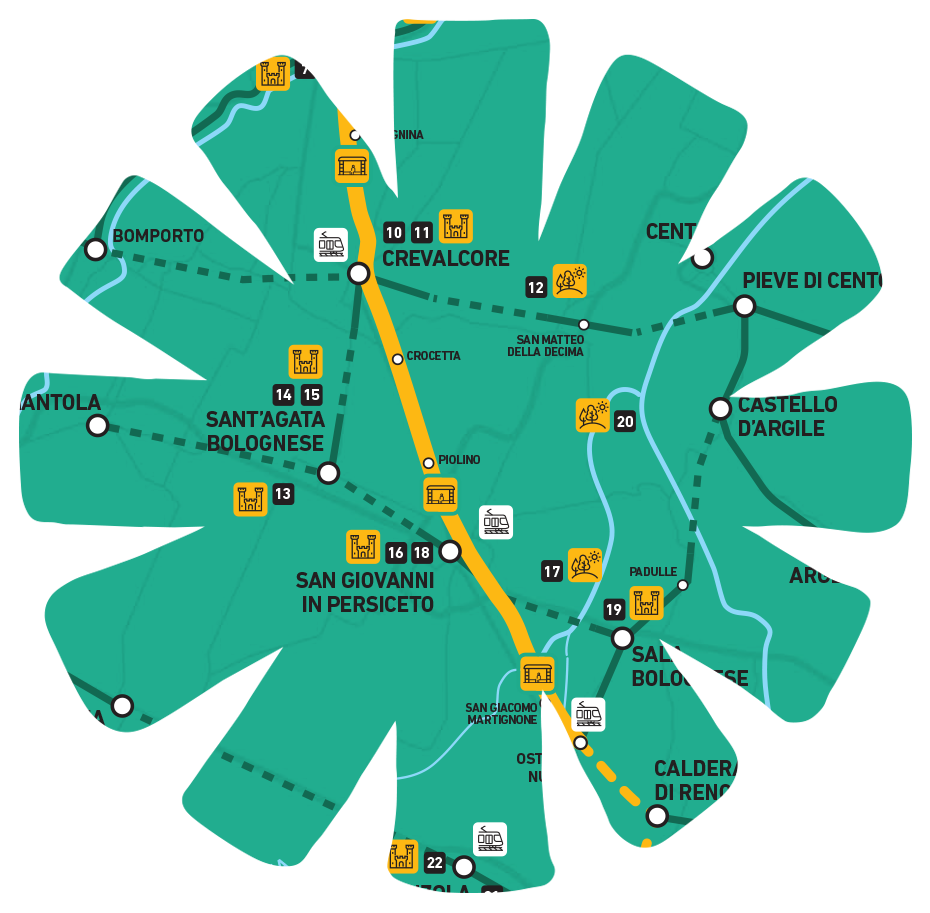 Plan
your trip and
discover everything there is to see

The GPX route also includes the Osteria Nuova to Bologna route.
This is a temporary route that uses side roads with less traffic, is well sign-posted and is suitable for international cycling tourists.
The final route will be further north and will pass through the town of Calderara di Reno,
The wooded strip of land to the north of the airport and the ecological corridor of the River Reno.
Discovering
the "holy gravel"
A dense network of unpaved country roads, bliss for all gravel-loving riders, branches off from this section of the Ciclovia del Sole (Sun Route) . Riding across the farmland you will experience the quintessence of Emilia-Romagna's agricultural culture, among abandoned ruins, working farms and bales of hay left out in the sun to dry. Cycling in a suspended world where only the modern farm machinery will remind you that it's the 21st century.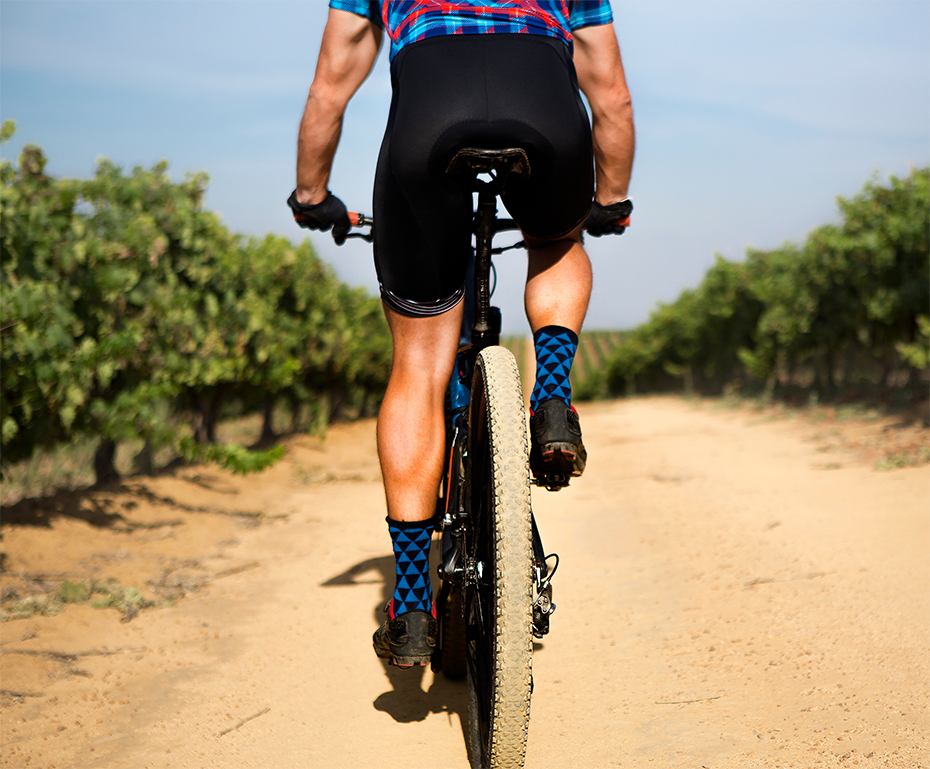 The Sun Route 
town by town